The Printable Temporary Tattoo Paper Gold Color For Inkjet Printer set includes printable A paper and adhesive gold B film.
This gold tattoo paper for inkjet is very easy to transfer on your skin. You can just print any image you want with a normal desktop inkjet printer, and you don't need any special machine certainly.
This tattoo transfer paper is made of nature materials, and it proved harmless to human body without any side effect. It is easily to create your own tattoo by simple cutting.
Features/Benefits
1. For printing: Bright colors can be printed; Compatible with most inkjet priners
2. For operation: Simple and fast to make a tattoo; High success rate
3. For personalized DIY: It is convenient to customize your favorite pictures to show your personality
4. For Safty: No harmful ingredients and hypoallergenic; It is safe without harmful material; Applicable to a wide range of people.
5. For stickness: Lasting for a long time (about one week)
6. For removal: Painless and easy to remove, you can change your tattoo easily.
7. For effect: Golden effect, retro, chic, individual
8. For application: As tattoo stickers directly on the skin; Can also be used for DIY customization of other handicrafts.
Specificaltions
| | |
| --- | --- |
| Size | A4 / A3 |
| Transfer type | water transfer |
| Suitable printer | inkjet printer |
| Suitable ink | pigment ink/dye ink (pigment ink is more recommended) |
| A printable paper thickness | 0.23 mm |
| B film thickness | 0.17 mm (clear film 0.08 mm+gold glue 0.02 mm+back film 0.07 mm) |
Opertation and Video
Easy to use
1. Print the image with inkjet printer in mirror mode.
2.Blow the printed A paper with a hair dryer for 3-5 minutes until the ink is dry.
3. Attach B film to A paper.
4. Use a scraper to scrape out the air bubbles.
5. Remove the clear film.
6. Attach the image on the skin, wet and press.
7. Slide out the back film.
Note:
1. Mirror Printing
2. The image is recommended to use hollow designs for better effect.
3. Ink selection: It is recommended to choose waterproof ink for printing.
4. It takes about 2~3 hours to dry naturally after printing, which is rather long. Drying with a hairdryer is recommended.
5. Make sure the skin is dry and clean before transferring .
6. Press and wet 30~40 seconds when transferring large-format patterns, and then remove the backing film.
7. Avoid friction with clothing or accessories for 30 minutes after transferring.
8. The glue feeling will get weaker and weaker after a few hours.
How to use Printable Temporary Tattoo Paper Gold Color For Inkjet Printer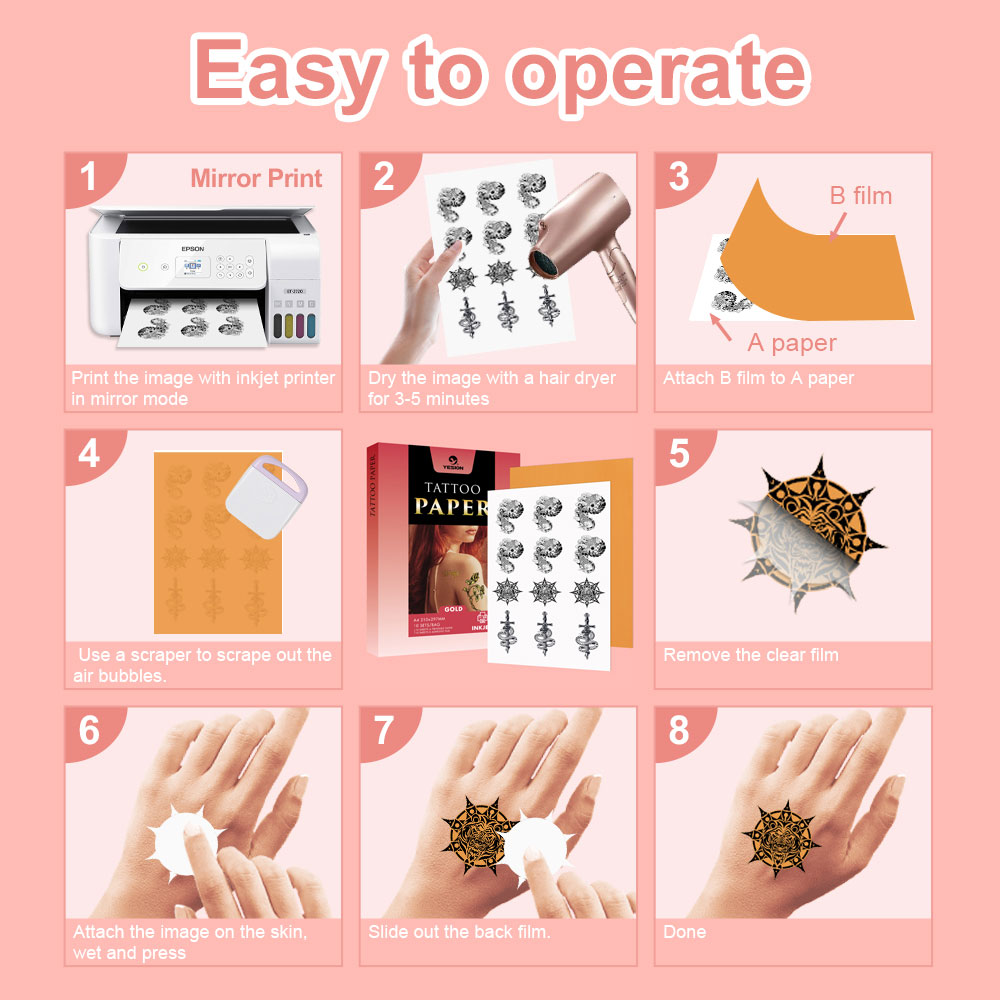 Application
The Printable Temporary Tattoo Paper Gold Color For Inkjet Printer is suitable for DIY tattoos on skin.