Brushed glitter adhesive vinyl is a type of craft vinyl material that is commonly used for crafting and decorating projects. It has a brushed texture that gives it a unique appearance and a glittery finish that adds sparkle and shine.
This type of vinyl is usually self-adhesive, meaning it has a sticky backing that allows it to be easily applied to a variety of surfaces, including walls, windows, and even vehicles. It is commonly used for creating custom decals, signs, and other decorative items.
One of the advantages of using brushed glitter adhesive vinyl is that it is durable and long-lasting, making it suitable for both indoor and outdoor use. It is also easy to cut and weed, which makes it ideal for intricate designs and lettering.
Brushed glitter adhesive vinyl is a versatile and popular material for a variety of crafting and decorating projects, thanks to its unique texture and glittery finish.
Specificaltion
| | |
| --- | --- |
| Surface material | PVC face film |
| Release Paper | PE-Coated Silicon Wood-Pulp Paper |
| Glue Type | Permanent glue |
| Glue Thickness | 0.025mm |
| Glue Color | Transparent |
| Film thickness(With Glue) | 0.16mm |
| Color | Purple,Gray, Rose Red,Copper,Lake Green |
| Available sizes | |
| Waterproof | Yes |
| Cutting plotter | Yes |
| Removability | Removable With Heat |
| Stretchability | Stretchable With Heat |
| Durability | Outdoor 3 years, Indoor 5 years |
| Brand | Yesion Brand |
| ODM /OEM | Yes |
Operation and Video
Step 1: Clean Your Surface
Prepare your target surface clean and dry,the smoother the surface, the easier to transfer the vinyl.
Step 2: Design with cutter
Put on a cutting mat that has a sticky back and cut the design by cutting machines.
Step 3: Weeding the excess vinyl
Leave the letters/graphics on the sheet (hook tools work well).
Step 4: Apply the transfer tape
Gently put a transfer tape on the surface of the cut vinyl.
Use a scraper over the design and make sure the transfer tape is adhering to the vinyl tightly.
Step 5: Adhere it to the new clean and dry flat surface slowly
Carefully work with delicate pattens. Remove transfer tape.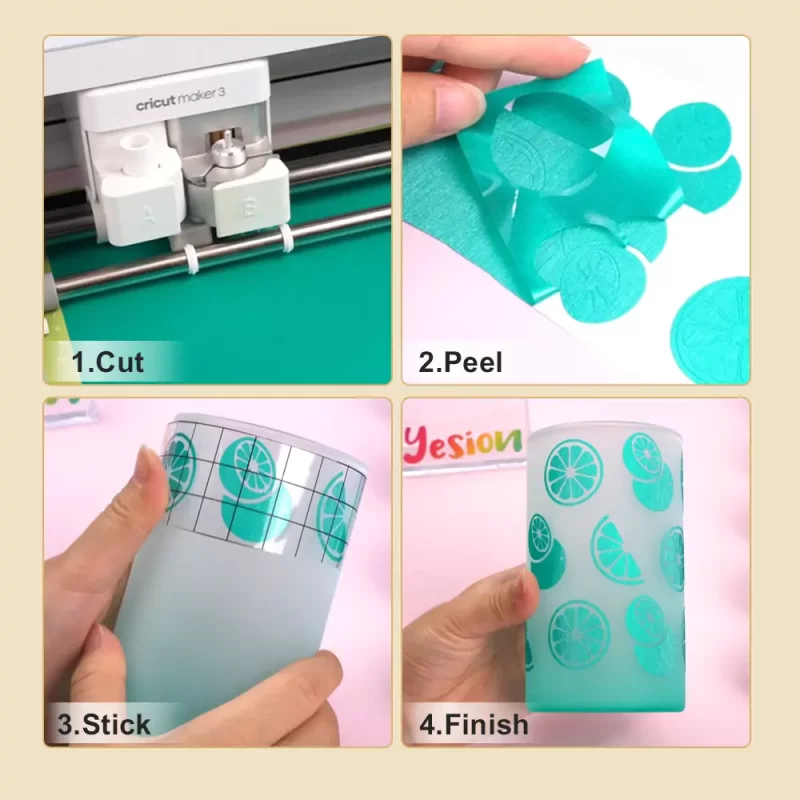 Application
Brushed glitter adhesive vinyl is available in a wide range of colors, allowing for a variety of creative possibilities,including Home decoration,Scrapbooking,Lettering,Graphics,Signs,Handmade products,Decals,Glass,Mirrors,Wall Decals,Banners,Signboards,Vinyl packaging. It is also compatible with a variety of cutting machines, including Cricut and Silhouette machines, making it easy to create custom designs.