Glow in dark adhesive vinyl is a special type of vinyl material that has the ability to absorb and store light energy from a source such as sunlight or electric light and then emit it in the dark. The vinyl is coated with a photoluminescent pigment that is activated by light and then gradually releases that energy as a glow.
Glow in the dark adhesive vinyl comes in various colors and can be cut into different shapes and sizes using a vinyl cutter. It can also be printed with designs using a digital printer. The permanent vinyl is usually self-adhesive, making it easy to apply to a variety of surfaces such as walls, floors, and ceilings.
It is important to note that the glow effect of the vinyl is temporary and will fade over time, requiring exposure to light to recharge the pigment. The duration and intensity of the glow will depend on the amount and duration of exposure to light.
Specificaltion
| | |
| --- | --- |
| Surface material | PVC face film |
| Release Paper | PE-Coated Silicon Wood-Pulp Paper |
| Glue Type | Pressure-Sensitive |
| Glue Content | Solvent Polyacrylate |
| Glue Thickness | 0.025± 0.002MM |
| Glue Color | Transparent |
| Film thickness(With Glue) | 0.31± 0.019MM |
| Color | 6 colors |
| Available sizes | |
| Waterproof | Yes |
| Cutting plotter | Yes |
| Removability | Removable With Heat |
| Stretchability | Stretchable With Heat |
| Durability | Outdoor 3 years, Indoor 6 years |
| Brand | Yesion Brand |
| ODM /OEM | Yes |
Operation and Video
1.Design the pattern on the computer.
2.Cut with a plotter.
3.Weed the excess part.
4.Transfer the pattern with the transfer tape and scraper.
5.Adhere the pattern to the surface and remove the transfer tape.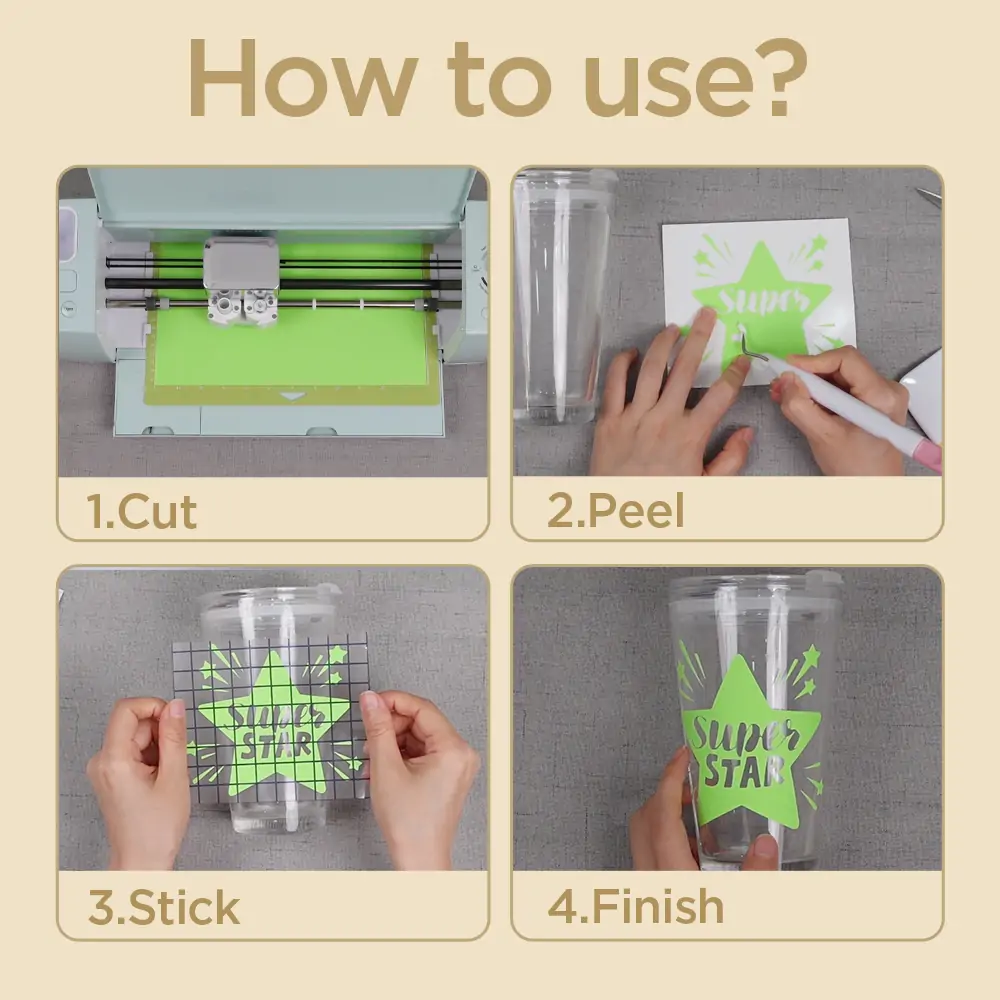 Application
Glow in dark adhesive vinyl is commonly used in various applications such as safety signs, emergency exits, evacuation plans, and even home decor. It is a popular choice for creating unique and eye-catching designs that can be seen even in low light or dark environments.