Glow in the Dark vinyl Roll is a unique specialty vinyl that absorbs ambient light during daytime conditions and emits it afterwards to create a unique 'glow in the dark' effect.
Features/Benefits
1.STORE LIGHT TO GLOW – Store daylight during the day and naturally glow at night. If the daylight is not enough, please put it under the light for a while to achieve the same effect! No outdoor applications due to UV fading.
2.VIBRANT LUMINOUS DESIGN – Easy to cut and apply for special occasions and seasonal crafts for party handcraft celebration decoration.
3.WORKS WITH – Most craft vinyl cutting machine such as craft kiss-cutters, die cutters, sign plotters for art and craft.
4.MULTI-PURPOSE USE – Home decor, scrapbooking projects, lettering, graphics, handcrafts, wall decals, etc
Glow in the Dark vinyl Roll is a unique specialty vinyl that absorbs ambient light during daytime conditions and emits it afterwards to create a unique 'glow in the dark' effect.
Features/Benefits
1.STORE LIGHT TO GLOW – Store daylight during the day and naturally glow at night.
2.VIBRANT LUMINOUS DESIGN – Easy to cut and apply for special occasions and seasonal crafts for party handcraft celebration decoration.
3.WORKS WITH – Most craft vinyl cutting machine such as craft kiss-cutters, die cutters, sign plotters for art and craft.
4.MULTI-PURPOSE USE – Home decor, scrapbooking projects, lettering, graphics, handcrafts, wall decals, etc
Specificaltion
| | |
| --- | --- |
| Surface material | PVC face film |
| Release Paper | PE-Coated Silicon Wood-Pulp Paper |
| Glue Type | Pressure-Sensitive |
| Glue Content | Solvent Polyacrylate |
| Glue Thickness | 0.025± 0.002MM |
| Glue Color | Transparent |
| Film thickness(With Glue) | 0.31± 0.019MM |
| Color | 6 colors |
| Available sizes | |
| Waterproof | Yes |
| Cutting plotter | Yes |
| Removability | Removable With Heat |
| Stretchability | Stretchable With Heat |
| Durability | Outdoor 3 years, Indoor 6 years |
| Brand | Yesion Brand |
| ODM /OEM | Yes |
Operation and Video
1.Design the pattern on the computer.
2.Cut with a plotter.
3.Weed the excess part.
4.Transfer the pattern with the transfer tape and scraper.
5.Adhere the pattern to the surface and remove the transfer tape.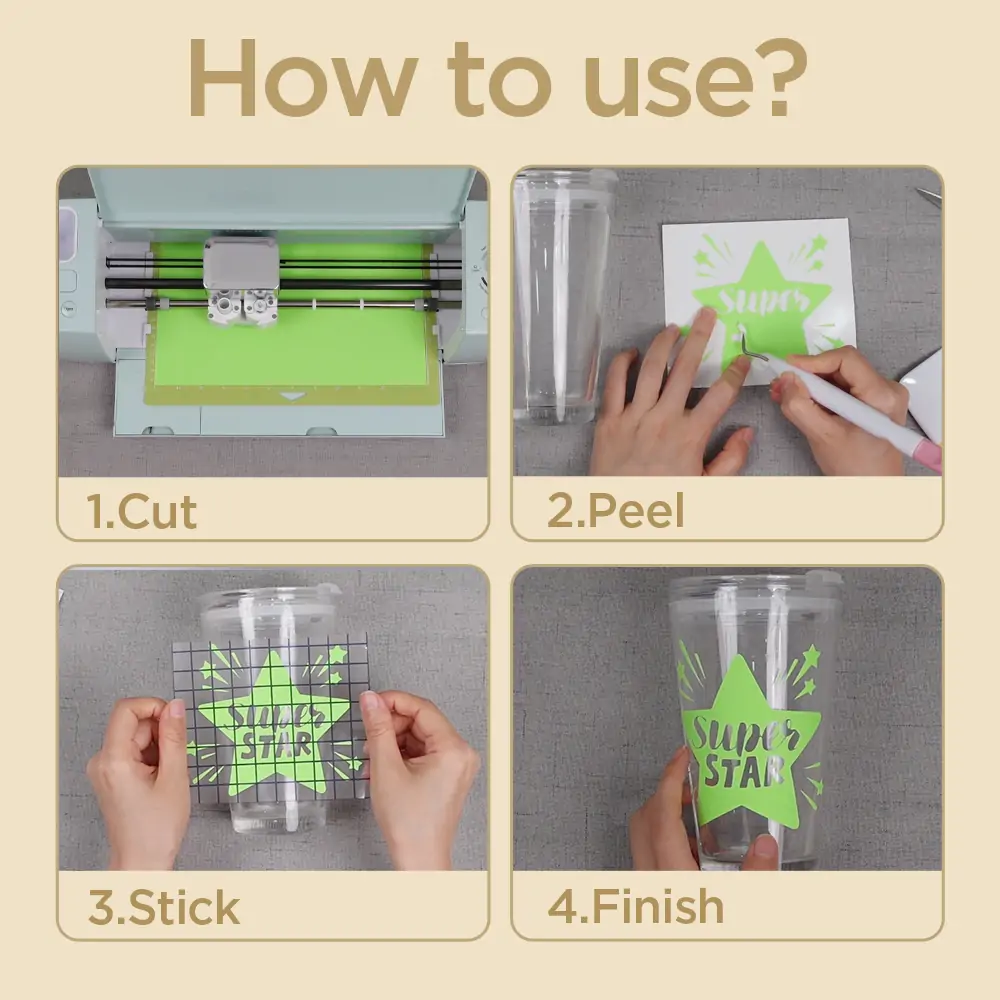 Application
All of our craft vinyl comes with an adhesive on one side with a paper backing that protects the adhesive until exposed. The Glow in the Dark vinyl has a permanent adhesive. It is compatible with most personal hobby and craft cutters and is designed for applications including decorations, craft projects, exit/emergency signage and other suddenly dark environments. It can be used for indoor or outdoor applications.