Holographic bubble sticker vinyl sheet is a type of decorative craft vinyl material that is used for various crafting and DIY projects. It is made of a thin, flexible vinyl sheet that is coated with a holographic layer, giving it a distinctive rainbow-like shine that changes color depending on the angle of the light.
The stickrt vinyl is also covered in tiny bubbles, which add texture and depth to the holographic effect. These bubbles are not only visually appealing, but they also help to protect the surface of the sticker from scratches and other forms of damage.
Holographic bubble sticker vinyl sheets come in a variety of colors and sizes, making them suitable for a wide range of applications. They can be used to create custom stickers, decals, labels, and even clothing and accessories. They are also popular for use in scrapbooking, card making, and other paper crafts.
Holographic bubble sticker vinyl sheet is a versatile and eye-catching material that can add a unique and playful touch to any project.
Specificaltion
| | |
| --- | --- |
| Surface material | |
| Release Paper | PE-Coated Silicon Wood-Pulp Paper |
| Glue Type | Pressure-Sensitive |
| Glue Content | Solvent Polyacrylate |
| Glue Thickness | |
| Glue Color | Transparent |
| Film thickness(With Glue) | |
| Color | Green, Blue, Gold, Red, Rosered, Orange, Silver, Black, etc |
| Available sizes | |
| Waterproof | Yes |
| Cutting plotter | Yes |
| Removability | Removable With Heat |
| Stretchability | Stretchable With Heat |
| Durability | Outdoor 3 years, Indoor 6 years |
| Brand | Yesion Brand |
| ODM /OEM | Yes |
Operation and Video
Step 1: Peel the craft vinyl and cut. Since this is permanent adhesive vinyl and not ironed, we don't need to mirror it.
Step 2: Weeding: rip the excess parts.
Step 3: Paste the transfer tape.
Step 4: Transfer the design.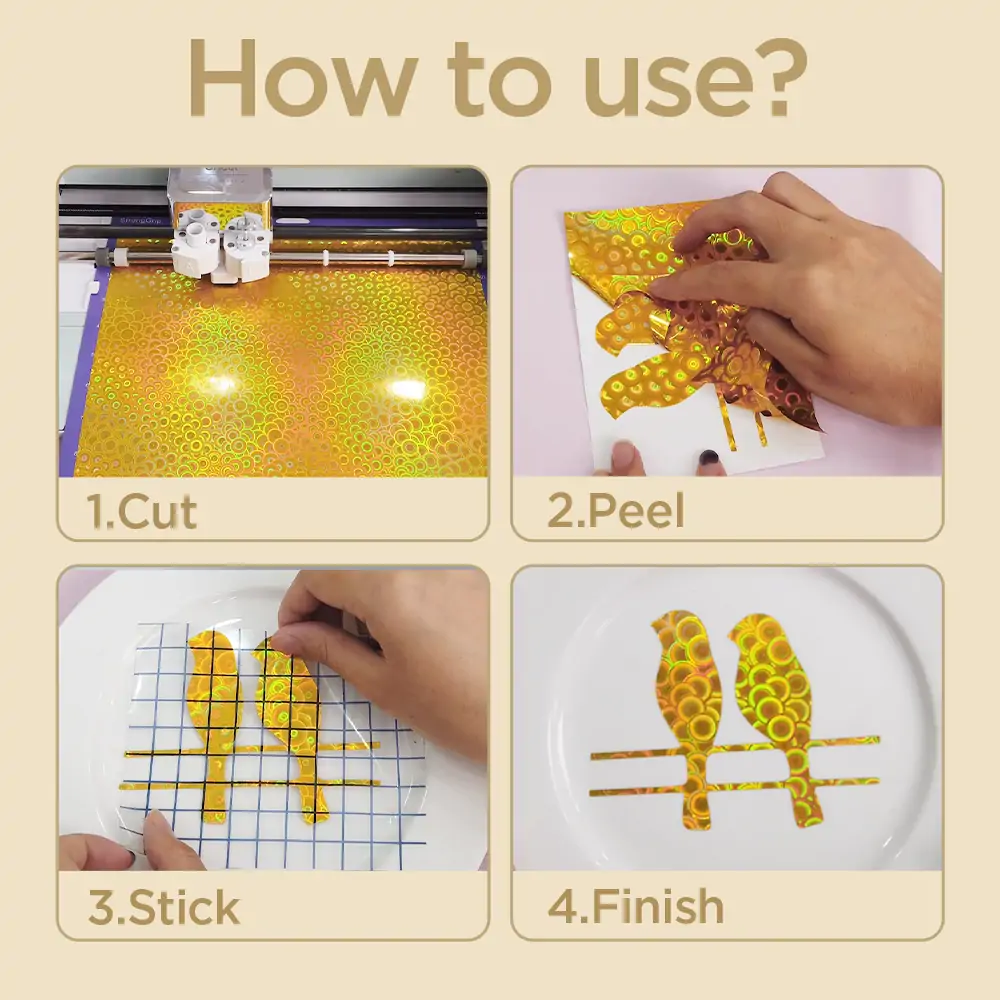 Application
Holographic bubble adhesive vinyl commonly used in various crafting projects, such as scrapbooking, card-making, and vinyl cutting, as well as for decorating items like cups, phone cases, and laptops.