Holographic cobblestone pattern sticker vinyl sheet is a decorative material that features a unique, three-dimensional pattern resembling a cobblestone surface. This craft vinyl is made of a durable, self-adhesive material that can be easily applied to a variety of surfaces, such as walls, furniture, and electronic devices.
The holographic effect on the vinyl sheet creates a stunning, rainbow-like color display that changes as the angle of the light changes. This effect is achieved through a specialized manufacturing process that incorporates multiple layers of materials, including a holographic film layer, a UV resistant layer, and a self-adhesive layer.
The cobblestone pattern on the vinyl sheet adds a textured and dynamic element to any surface it is applied to, making it a popular choice for personalizing items like laptops, phone cases, and water bottles. It is also commonly used for interior design purposes, such as accent walls, decorative trim, and furniture accents.
The holographic cobblestone pattern sticker vinyl is a versatile and eye-catching decorative material that can add a unique touch to a wide range of surfaces and items.
Specificaltion
| | |
| --- | --- |
| Surface material | |
| Release Paper | PE-Coated Silicon Wood-Pulp Paper |
| Glue Type | Pressure-Sensitive |
| Glue Content | Solvent Polyacrylate |
| Glue Thickness | |
| Glue Color | Transparent |
| Film thickness(With Glue) | |
| Color | Silver, Green, Pink, Red, Purple,Gold, Blue, Black,etc |
| Available sizes | |
| Waterproof | Yes |
| Cutting plotter | Yes |
| Removability | Removable With Heat |
| Stretchability | Stretchable With Heat |
| Durability | Outdoor 3 years, Indoor 6 years |
| Brand | Yesion Brand |
| ODM /OEM | Yes |
Operation and Video
Step 1: Peel the craft vinyl and cut. Since this is permanent adhesive vinyl and not ironed, we don't need to mirror it.
Step 2: Weeding: rip the excess parts.
Step 3: Paste the transfer tape.
Step 4: Transfer the design.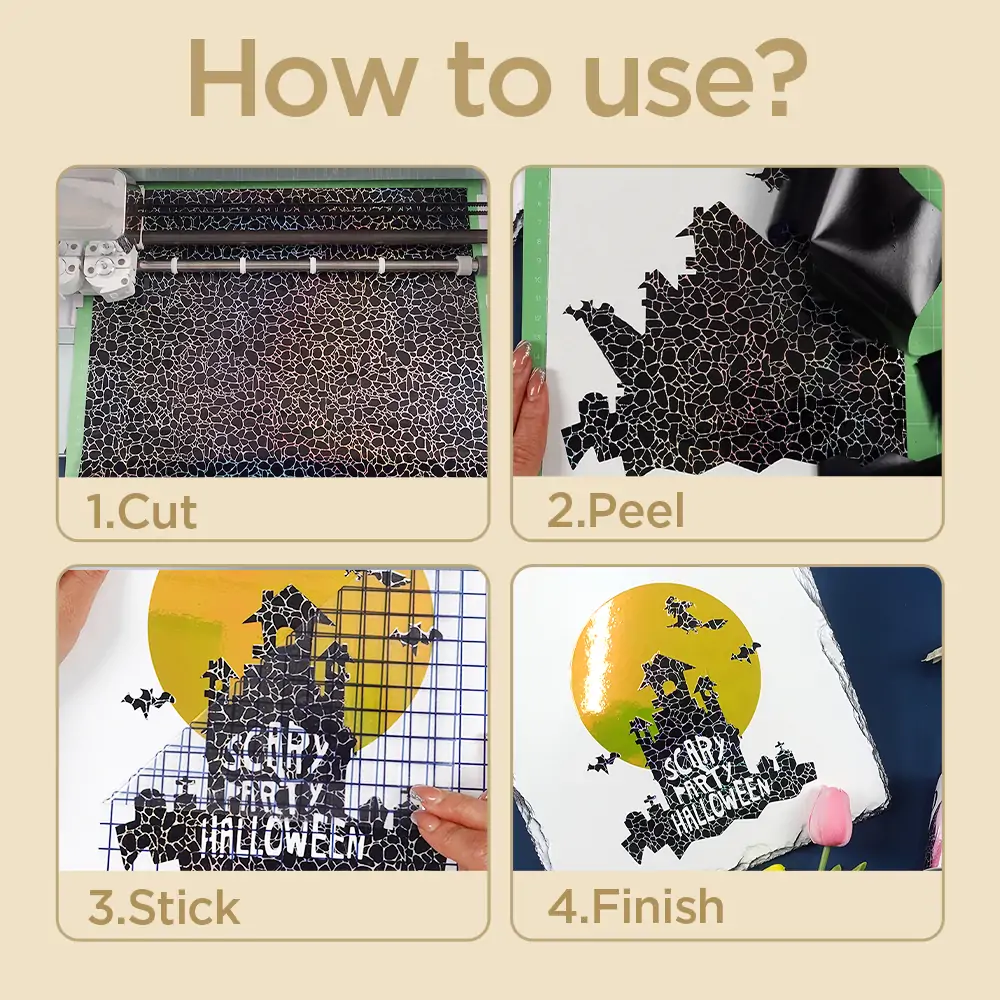 Application
Holographic cobblestone pattern adhesive vinyl bundles apply on water and UV resistant for indoor and outdoor projects. DIY hand craft, home decor, signs, letters, banners, wall decals, window graphics, cars,glass mirrors, scrapbooking, etc.