Holographic shimmer sticker vinyl sheets are a type of self-adhesive vinyl material that features a holographic or iridescent shimmer effect. These sheets are commonly used for creating stickers and decals that have a unique and eye-catching appearance. The holographic effect is created by a special coating on the vinyl that reflects light and creates a rainbow-like appearance. This effect can add a touch of glamour and sparkle to any sticker or decal design.
Holographic shimmer sticker vinyl sheets come in a range of colors and designs(Yesion offers 8 colors for your choice), making them a versatile choice for many different creative projects. They are often used for customizing personal items like laptops, water bottles, and phone cases. They are also commonly used for creating promotional stickers and decals for businesses and events.
The adhesive backing on these vinyl sheets makes them easy to apply to a variety of surfaces, including glass, metal, plastic, and more. They are also durable and resistant to fading, making them a long-lasting option for stickers and decals.
Holographic shimmer sticker vinyl sheets are a fun and attention-grabbing material that can add a touch of magic and excitement to any sticker or decal project. With their unique visual appeal and easy application, they are a popular choice among DIY enthusiasts, artists, and businesses alike.
Specificaltion
| | |
| --- | --- |
| Surface material | |
| Release Paper | PE-Coated Silicon Wood-Pulp Paper |
| Glue Type | Pressure-Sensitive |
| Glue Content | Solvent Polyacrylate |
| Glue Thickness | |
| Glue Color | Transparent |
| Film thickness(With Glue) | |
| Color | Green, Pink, Blue, Purple, Gold, Silver, Orange, Black, etc |
| Available sizes | |
| Waterproof | Yes |
| Cutting plotter | Yes |
| Removability | Removable With Heat |
| Stretchability | Stretchable With Heat |
| Durability | Outdoor 3 years, Indoor 6 years |
| Brand | Yesion Brand |
| ODM /OEM | Yes |
Operation and Video
Step 1: Peel the craft vinyl and cut. Since this is permanent adhesive vinyl and not ironed, we don't need to mirror it.
Step 2: Weeding: rip the excess parts.
Step 3: Paste the transfer tape.
Step 4: Transfer the design.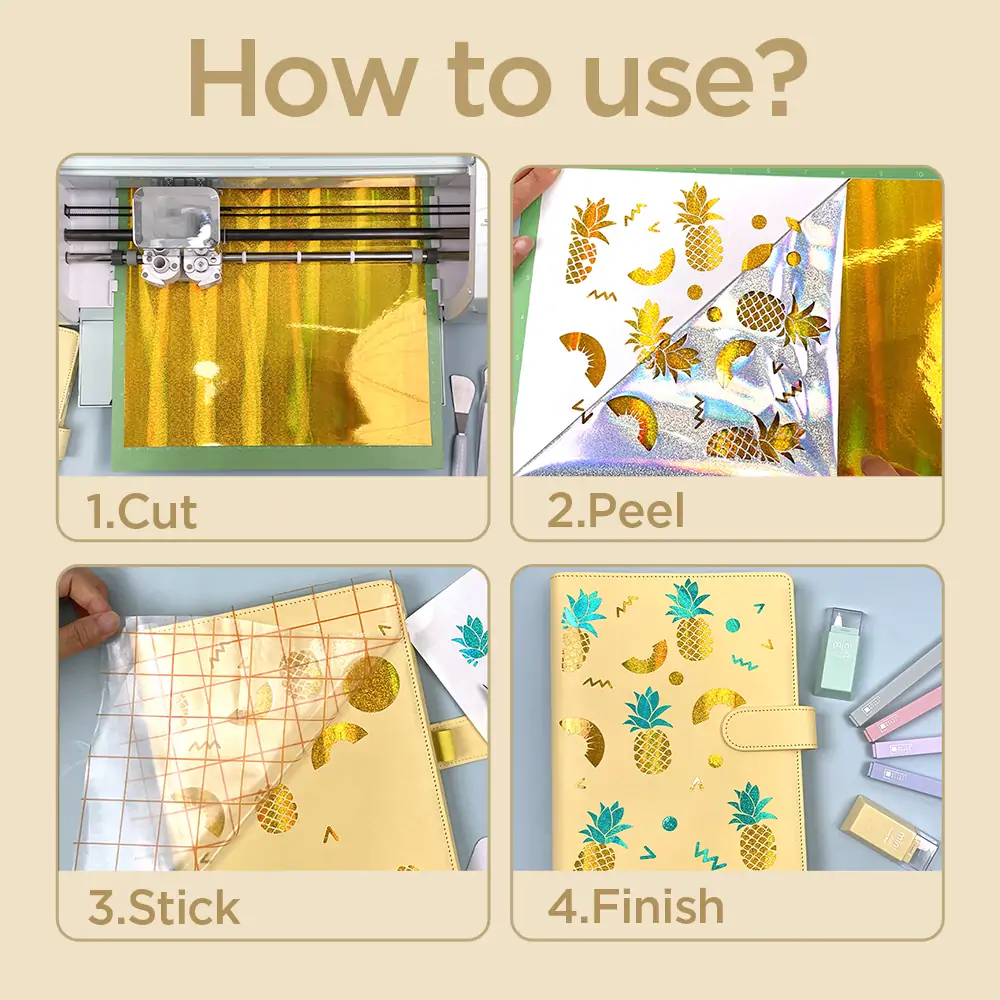 Application
Holographic shimmer adhesive vinyl bundles apply on water and UV resistant for indoor and outdoor projects. DIY hand craft, home decor, signs, letters, banners, wall decals, window graphics, car decals,glass mirrors, scrapbooking, etc.