DTF UV printing is a new digital printing technology that combines the characteristics of DTF (Direct-to-Film) and UV (Ultraviolet) printing. This technology uses a special ink to directly print images on flexible film using a printer, and then cures the ink through UV radiation.
The UV DTF Film is a game-changer, specifically designed to deliver exceptional results when paired with UV DTF Printers. Its high-quality construction ensures impeccable adhesion, enabling your artwork to come alive with vibrant colors and intricate details. Say goodbye to pixelated prints and hello to sharpness and clarity that captivate eyes and hearts alike!
Advantages:
1. Adopt new technology,Use of two films A and B together
2. No heating No shaking Safe and convenient
3. Can be cut at will according to the size of the pattern
4. Not limited by the surface shape of the printed material
5. High color fastness
6. Strong scratch resistance
7. High-resolution
8. Lasting pattern
9. low cost
10. Waterproof
Specificaltion
| | |
| --- | --- |
| Transparency | Transparent |
| Size | A3 and roll size |
| A size | A3/31CM*100M/61CM*100M |
| B size | 31 CM*100M/61CM*100M |
| Glue | thickened high viscosity glue |
| Thickness | 8C |
| Printer | UV printer |
| Ink | UV ink |
| Print head | |
Operation and Video
How to use
1.pattern Design.
2.Tear off the protective film from A film.
3.Printing Pattern on A film.
4.Composite B film and printed A film.
5.Take off A film.
6.Press and tear off the film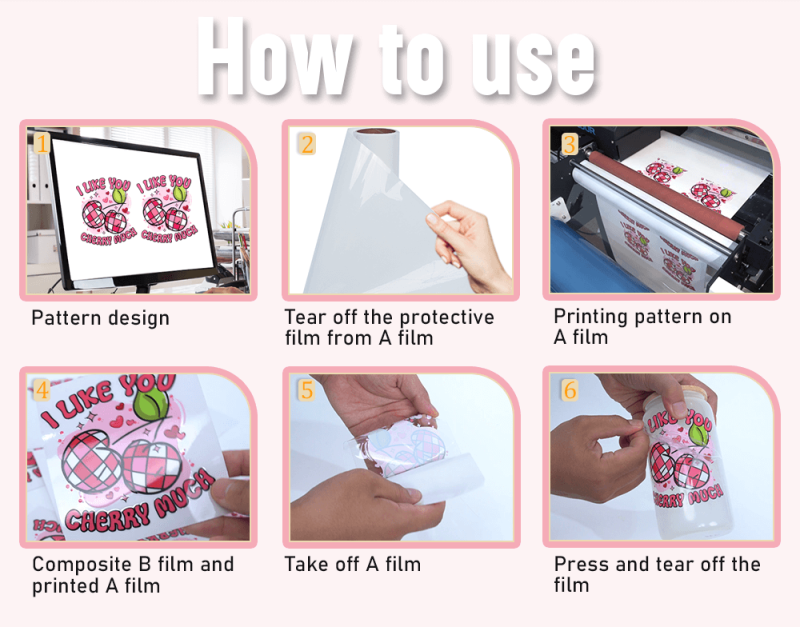 Application
UV DTF film can not only print on flat, wood, ceramic, glass, metal, acrylic and other materials, but also print on bent and cylindrical objects,and output a good 3D texture, high color fastness and scratch resistance Printing effect.