Brushed Holographic Sticker Vinyl Sheet is a unique type of craft vinyl material that features a brushed metallic finish and a holographic effect. The holographic effect gives the vinyl a rainbow-like appearance, which changes color as it moves in the light. This effect is created by a special layer of thin film that reflects different colors of light at different angles.
The brushed metallic finish gives the vinyl a textured appearance, similar to the look of brushed metal. This texture adds depth and dimension to the design, making it stand out even more. The vinyl is also durable and waterproof, making it ideal for a variety of applications, including custom decals, stickers, labels, and more.
Brushed Holographic Sticker Vinyl Sheet can be cut with a vinyl cutter or craft knife to create custom shapes and designs. It can also be printed on using a compatible printer, allowing for even more customization options. The vinyl can be applied to a variety of surfaces, including walls, windows, laptops, cars, and more.
Brushed Holographic Sticker Vinyl Sheet is a versatile and eye-catching material that can be used to add a unique and creative touch to a variety of projects.
Specificaltion
| | |
| --- | --- |
| Surface material | |
| Release Paper | PE-Coated Silicon Wood-Pulp Paper |
| Glue Type | Pressure-Sensitive |
| Glue Content | Solvent Polyacrylate |
| Glue Thickness | |
| Glue Color | Transparent |
| Film thickness(With Glue) | |
| Color | 12 colors:Light blue, Blue, Rosered, Red, Orange, Green, Light green,Gold, Silver, Purple, Pink, Black, etc |
| Available sizes | |
| Waterproof | Yes |
| Cutting plotter | Yes |
| Removability | Removable With Heat |
| Stretchability | Stretchable With Heat |
| Durability | Outdoor 3 years, Indoor 6 years |
| Brand | Yesion Brand |
| ODM /OEM | Yes |
Operation and Video
Step 1: Peel the craft vinyl and cut. Since this is permanent adhesive vinyl and not ironed, we don't need to mirror it.
Step 2: Weeding: rip the excess parts.
Step 3: Paste the transfer tape.
Step 4: Transfer the design.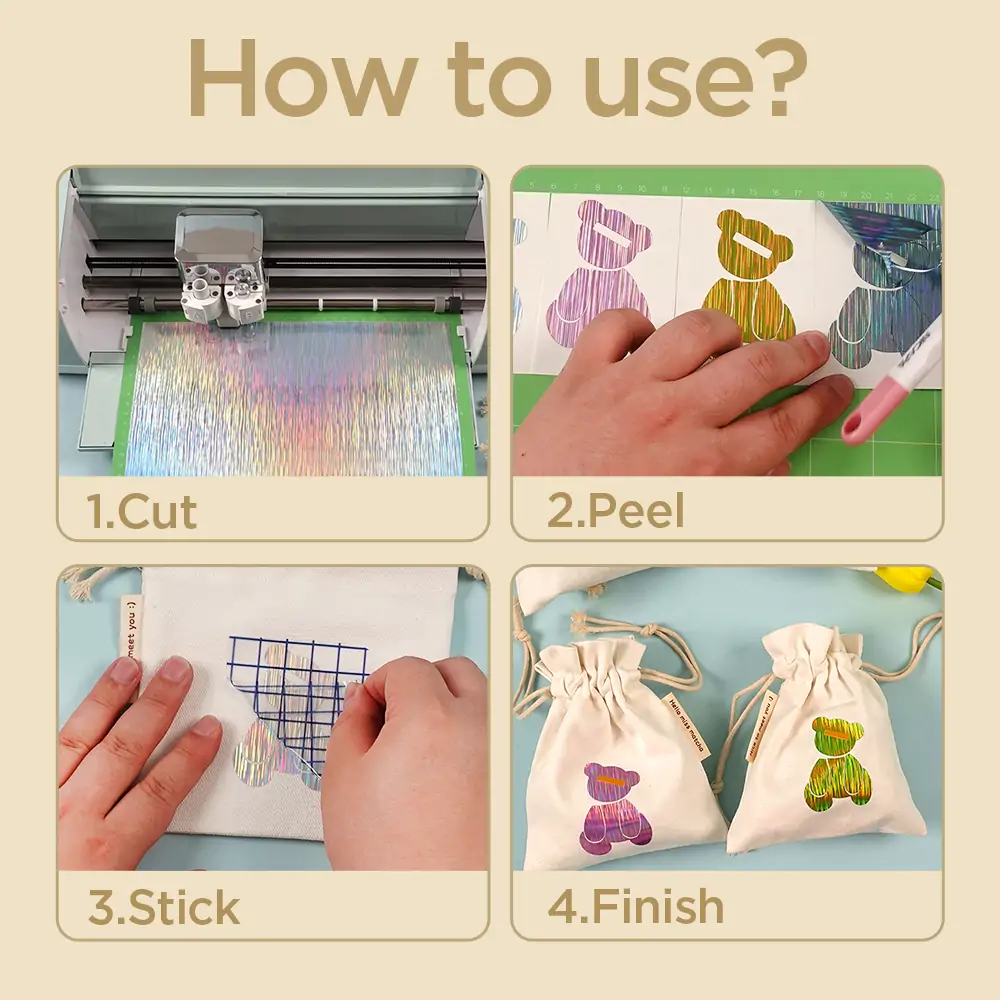 Application
Brushed Holographic Adhesive Vinyl is a great option for anyone looking to add some shimmer and shine to their crafting or decorating projects,such as signs, home decor, glass, mirror, ceramic, tiles, cars, letters, banners, striping, decals, picture frames, scrapbooking and more.