Holographic Rainbow Sticker Vinyl Sheet is a fun and versatile craft material that adds a dazzling touch to any project. This craft vinyl sheet is made of high-quality holographic material that reflects light in a rainbow of colors, creating a stunning 3D effect.
The sheet comes in a variety of sizes and can be easily cut to fit any project. The adhesive backing ensures that the sheet stays in place, making it perfect for adding accents to notebooks, journals, laptops, phone cases, and more.
In addition to its decorative uses, Holographic Rainbow Sticker Vinyl Sheet is also durable and waterproof, making it suitable for outdoor use. It can withstand exposure to rain, sun, and other elements without fading or losing its holographic shine.
The sheet is easy to apply, simply peel and stick it to your desired surface. It can also be easily removed without leaving any residue, making it ideal for temporary projects or for experimenting with different designs.
Whether you're looking to add a touch of sparkle to your craft projects, create eye-catching labels or stickers, or simply add a bit of fun to your everyday items, Holographic Rainbow Sticker Vinyl Sheet is the perfect material for you. Its versatility, durability, and stunning holographic effect make it a must-have for any crafter or DIY enthusiast.
Specificaltion
| | |
| --- | --- |
| Surface material | |
| Release Paper | PE-Coated Silicon Wood-Pulp Paper |
| Glue Type | Pressure-Sensitive |
| Glue Content | Solvent Polyacrylate |
| Glue Thickness | |
| Glue Color | Transparent |
| Film thickness(With Glue) | |
| | sparkle dot, carbon fiber, ripple, diamond, mermaid, hexagon, leopard pattern, heartshape |
| Available sizes | |
| Waterproof | Yes |
| Cutting plotter | Yes |
| Removability | Removable With Heat |
| Stretchability | Stretchable With Heat |
| Durability | Outdoor 3 years, Indoor 6 years |
| Brand | Yesion Brand |
| ODM /OEM | Yes |
Operation and Video
Step 1: Peel the craft vinyl and cut. Since this is permanent adhesive vinyl and not ironed, we don't need to mirror it.
Step 2: Weeding: rip the excess parts.
Step 3: Paste the transfer tape.
Step 4: Transfer the design.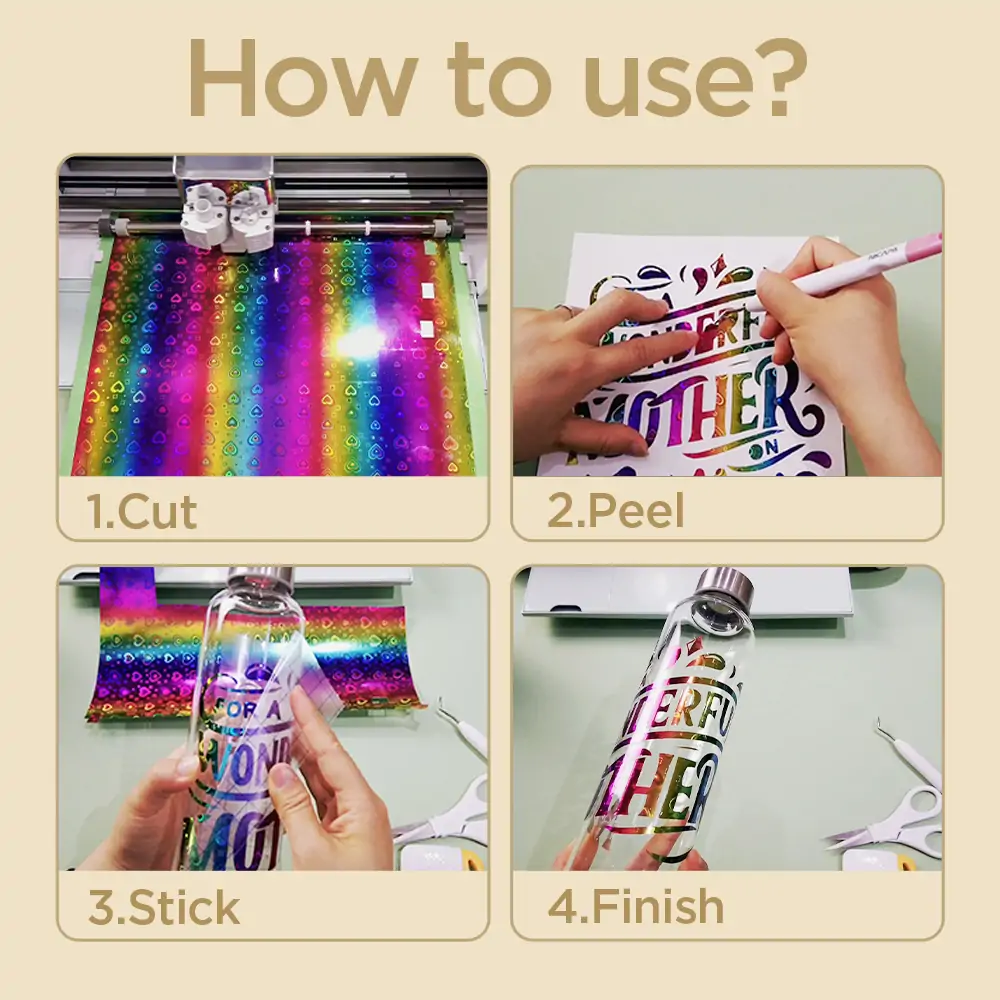 Application
Holographic rainbow adhesive vinyl bundles are suitable for a wide range of applications including graphics industry, signs, home decor, glass, mirror, ceramic, tiles, cars, letters, banners, striping, decals, picture frames, scrapbooking and more.