Holographic sparkle sticker vinyl sheets are thin, flexible sheets of vinyl that feature a holographic or iridescent finish. These sheets are often used for crafting projects, as they can add a fun and eye-catching element to a variety of surfaces.
The holographic effect is created by a special layer of material that reflects light in different directions, creating a shimmering, rainbow-like effect. The vinyl material itself is usually self-adhesive, allowing for easy application to surfaces such as walls, windows, or even clothing.
Holographic sparkle sticker vinyl sheets come in a variety of colors and patterns, from classic silver and gold to bright, bold hues like red, blue, and green,purple. They can be used to create custom decals, stickers, or other embellishments for a wide range of DIY projects, including scrapbooking, card making, and home decor.
Holographic sparkle sticker vinyl sheets offer a fun and versatile way to add a touch of sparkle and shine to any project.
Specificaltion
| | |
| --- | --- |
| Surface material | |
| Release Paper | PE-Coated Silicon Wood-Pulp Paper |
| Glue Type | Pressure-Sensitive |
| Glue Content | Solvent Polyacrylate |
| Glue Thickness | |
| Glue Color | Transparent |
| Film thickness(With Glue) | |
| Color | 12 colors:Green, Pink,Red, Mint, Silver, Purple, Blue, Gold, etc |
| Available sizes | |
| Waterproof | Yes |
| Cutting plotter | Yes |
| Removability | Removable With Heat |
| Stretchability | Stretchable With Heat |
| Durability | Outdoor 3 years, Indoor 6 years |
| Brand | Yesion Brand |
| ODM /OEM | Yes |
Operation and Video
1.Design the pattern on the computer
2.Cut with a plotter
3.Weed the excess part
4.Transfer the pattern with the transfer tape and scraper
5.Adhere the pattern to the surface and remove the transfer tape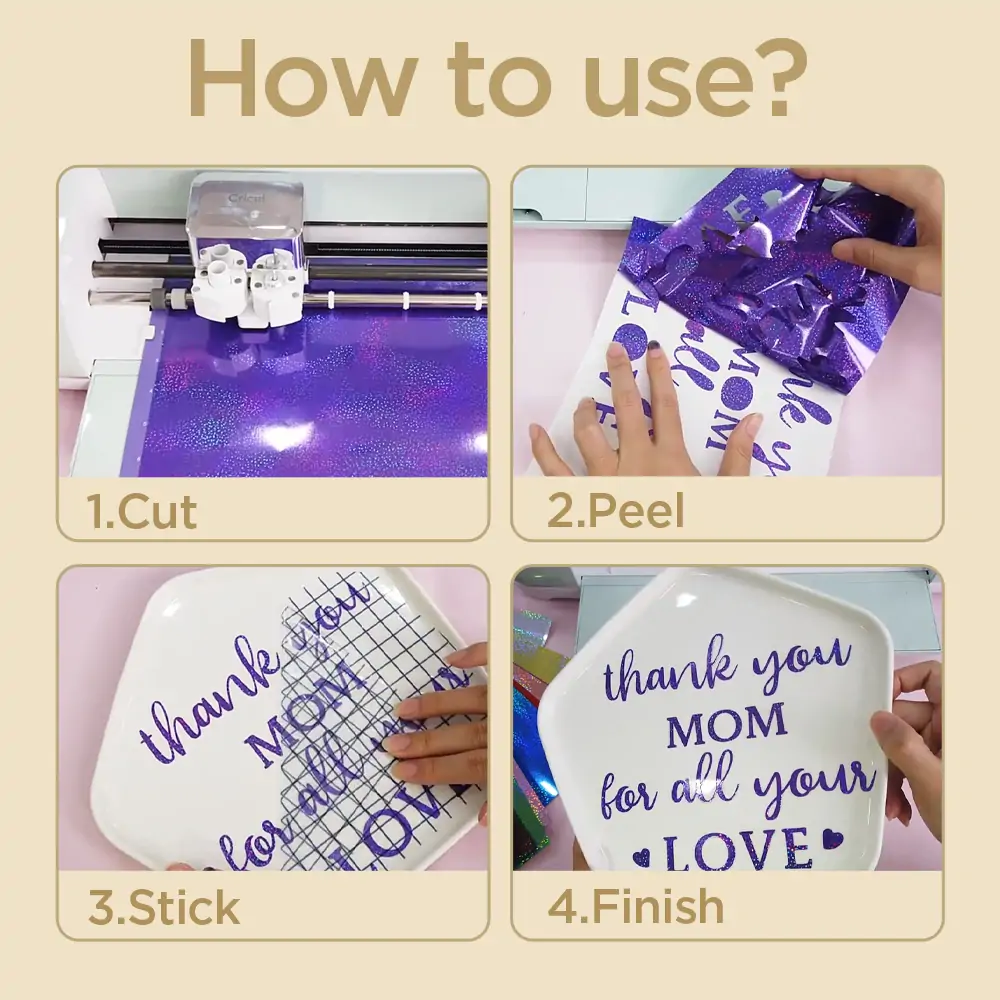 Application
Craft holographic sparkle vinyl is very sturdy and resistant, so it can handle demanding projects that contain an abundance of cutting work. Check out these Removable Vinyl Project Ideas!
Heavy-duty applications are great options because this vinyl's durability will last for years without cracking or scratching from overusing sharp materials such as blades, knives, scissors, etc. It has been noted to be most commonly used for Arts & Crafts endeavors but also does wonders for signs.