The sublimation vinyl perfectly solves the problem that the sublimation paper cannot transfer light-colored pure cotton fabrics.
This clear htv for sublimation can not only be applied to polyester, blended fabrics, but also to 100% Light-colored cotton fabric.
Easily apply intricate and multi-colored graphics to t-shirts and other wearables with sublimation HTV vinyl! Patterns of hollow effect can be perfectly achieved that cannot be done with regular heat transfer vinyl. The transferred color is Vivid & Bright, long lasting and washing resistance.Sublimation ink is not easy to fade and has stronger durability.
Wholesale subli cotton products at factory price,please get in touch with us at any time!
Features/Benefits
Sublimation on 100% Cotton Fabric
Vivid & Bright Colors
Easy to Use & Transfer
Long Lasting & Non-fading
Soft hand & very flexible
Washable & Light fastness
Specificaltions
| | |
| --- | --- |
| Surface material | PU face film |
| Film thickness(with glue) | 0.1mm |
| Glue type | Silica glue |
| Release paper | PET |
| Release paper thickness | 0.1mm |
| Color | Clear |
| Available sizes | A4/A3/12inX12in/12inx82ft |
Opertation and Video
Step 1: Obtain a pattern, import the pattern into the operating software of the cutting plotter, and print the designed pattern with sublimation ink through the software of the cutting plotter.
Print Mode: Mirror Print, High Quality Glossy Paper, Standard Print Quality.
Note: Record the size settings of the printed pattern.
Step 2: Re-upload the pattern to the software of the cutting plotter (Note: The size of the pattern needs to be the same as the printed pattern), then click the offset and set the distance of the outline to 0.1mm and cut out the pattern (if the pattern is complex and small, the offset can be appropriately increased; if it is simple and the offset can be appropriately reduced).
Step 3:  Take out the sublimation heat transfer vinyl, cut out the outline edge of the pattern by the cutting plotter, and then weed the extra parts. (Note: Cutting Mode:Mirror).
Step 4: Transfer the pattern.
Set heat press parameters:   Temperature: 185℃,   Pressure:  Medium.
Put the sublimation HTV vinyl face up on the fabric, iron at 185℃ for 5 seconds, and remove the base film of the sublimation vinyl (Cold Peel).
Put the printed sublimation paper on the sublimation vinyl,Align and fix the pattern.Iron with a heat press machine at 185°C for 40 seconds, peel off the sublimation paper(cold peel).
Step 5: Transfer completed.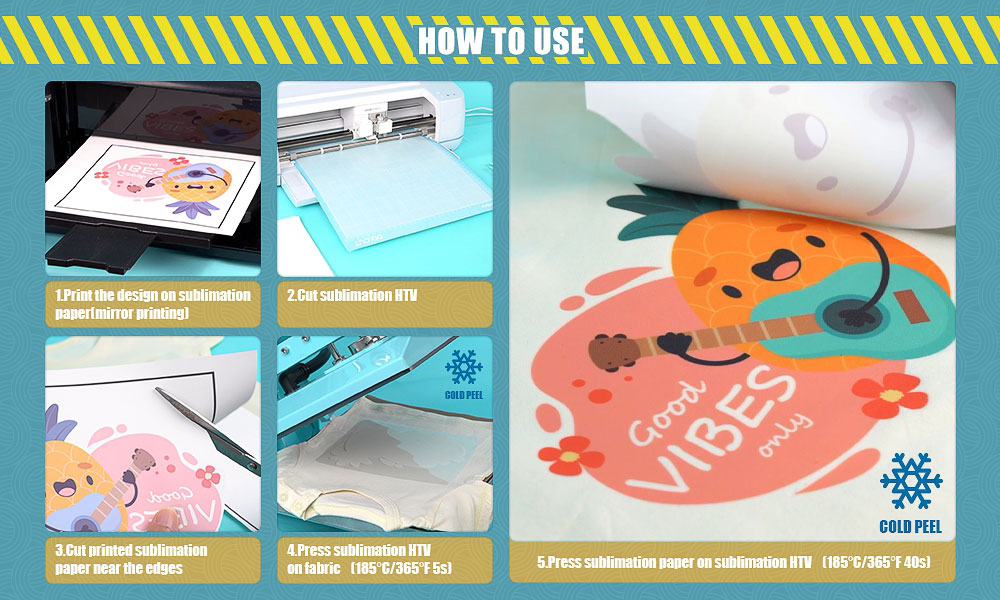 * If the pattern is not easy to align during transfer, you can also put a positioning film on the back of the sublimation paper, and then use a cutting plotter to cut the pattern on the sublimation paper and then weed the extra parts,in order to align the pattern during transfer.
More operation details about sublimation Vinyl,please view the following VIDEO.
Application
Sublimation heat transfer vinyl is widely used on most material: 100% Cotton, 100% Polyester, Poly / Cotton Blends,such as Light colored clothes, Canvas bags, Hats, Socks, Pillows, Baby clothing and more.
The application of sublimation HTV Sheets