Revolutionize Your Fabric Printing with Sublimation Vinyl for Light-Colored Cotton
Are you tired of limitations when it comes to transferring designs onto light-colored pure cotton fabrics? Look no further than sublimation vinyl, the ultimate solution to this problem. Unlike sublimation paper, sublimation vinyl allows you to effortlessly transfer intricate and multi-colored graphics onto various fabrics, including polyester, blended fabrics, and even 100% light-colored cotton. Say goodbye to the constraints of traditional heat transfer vinyl and unlock a world of possibilities with this innovative product.
Unleash Your Creativity with Sublimation HTV Vinyl
Sublimation HTV vinyl is a game-changer for anyone involved in fabric printing. Its unique characteristics open up new avenues for creativity and design possibilities. One of the standout features is the ability to achieve patterns with a hollow effect, something that regular heat transfer vinyl cannot replicate. This means you can add stunning depth and dimension to your designs, elevating your creations to a whole new level.
Vivid, Long-Lasting, and Washing-Resistant Results
When it comes to vibrant and enduring colors, sublimation vinyl excels. The transferred colors are vivid and bright, making your designs truly eye-catching. Whether it's a detailed logo, a striking image, or a colorful pattern, the results will leave a lasting impression. Additionally, sublimation ink used in conjunction with the vinyl is known for its exceptional durability. It resists fading, ensuring that your designs remain vibrant even after numerous washes, providing long-lasting enjoyment for your customers.
Easy to Use and Transfer
Don't let complex and time-consuming processes hold you back. Sublimation HTV vinyl offers a user-friendly experience, allowing you to achieve professional results without the hassle. The simplicity of the transfer process means you can apply intricate and multi-colored graphics to t-shirts and other wearables effortlessly. Whether you're a seasoned professional or just starting your fabric printing journey, sublimation vinyl ensures a smooth and efficient workflow.
Soft, Flexible, and Comfortable
Comfort is a key factor when it comes to wearables, and sublimation vinyl delivers in this regard. The resulting prints have a soft hand, providing a comfortable feel against the skin. The vinyl is also highly flexible, allowing the fabric to move naturally without any stiffness or discomfort. This combination of softness and flexibility ensures that the end product is not only visually appealing but also pleasant to wear.
Washable and Light Fastness
Fabric prints need to withstand regular use and washing without losing their original brilliance. Sublimation vinyl rises to the challenge with its excellent washability and light fastness. Your designs will retain their vividness and color intensity, even after numerous wash cycles. This feature is particularly important for garments that require frequent laundering, ensuring that your prints remain as stunning as the day they were applied.
Wholesale Subli Cotton Products at Factory Price
Are you ready to take your fabric printing business to the next level? Look no further than our wholesale subli cotton products, available at competitive factory prices. We offer a wide range of sublimation vinyl and other related supplies, ensuring that you have everything you need to create exceptional prints. Our team is committed to providing high-quality products and excellent customer service. Contact us today to explore our offerings and start transforming your fabric printing endeavors.
In conclusion, sublimation vinyl is a revolutionary product that unlocks endless possibilities in fabric printing. Its ability to transfer intricate designs onto light-colored cotton, along with its vivid and durable results, make it a must-have for any fabric printing enthusiast. Embrace the power of sublimation HTV vinyl and elevate your designs to new heights of creativity and quality.
Specificaltions
| | |
| --- | --- |
| Surface material | PU face film |
| Film thickness(with glue) | 0.1mm |
| Glue type | Silica glue |
| Release paper | PET |
| Release paper thickness | 0.1mm |
| Color | Clear |
| Available sizes | A4/A3/12inX12in/12inx82ft |
Opertation and Video
Step 1: Obtain a pattern, import the pattern into the operating software of the cutting plotter, and print the designed pattern with sublimation ink through the software of the cutting plotter.
Print Mode: Mirror Print, High Quality Glossy Paper, Standard Print Quality.
Note: Record the size settings of the printed pattern.
Step 2: Re-upload the pattern to the software of the cutting plotter (Note: The size of the pattern needs to be the same as the printed pattern), then click the offset and set the distance of the outline to 0.1mm and cut out the pattern (if the pattern is complex and small, the offset can be appropriately increased; if it is simple and the offset can be appropriately reduced).
Step 3:  Take out the sublimation heat transfer vinyl, cut out the outline edge of the pattern by the cutting plotter, and then weed the extra parts. (Note: Cutting Mode:Mirror).
Step 4: Transfer the pattern.
Set heat press parameters:   Temperature: 185℃,   Pressure:  Medium.
Put the sublimation HTV vinyl face up on the fabric, iron at 185℃ for 5 seconds, and remove the base film of the sublimation vinyl (Cold Peel).
Put the printed sublimation paper on the sublimation vinyl,Align and fix the pattern.Iron with a heat press machine at 185°C for 40 seconds, peel off the sublimation paper(cold peel).
Step 5: Transfer completed.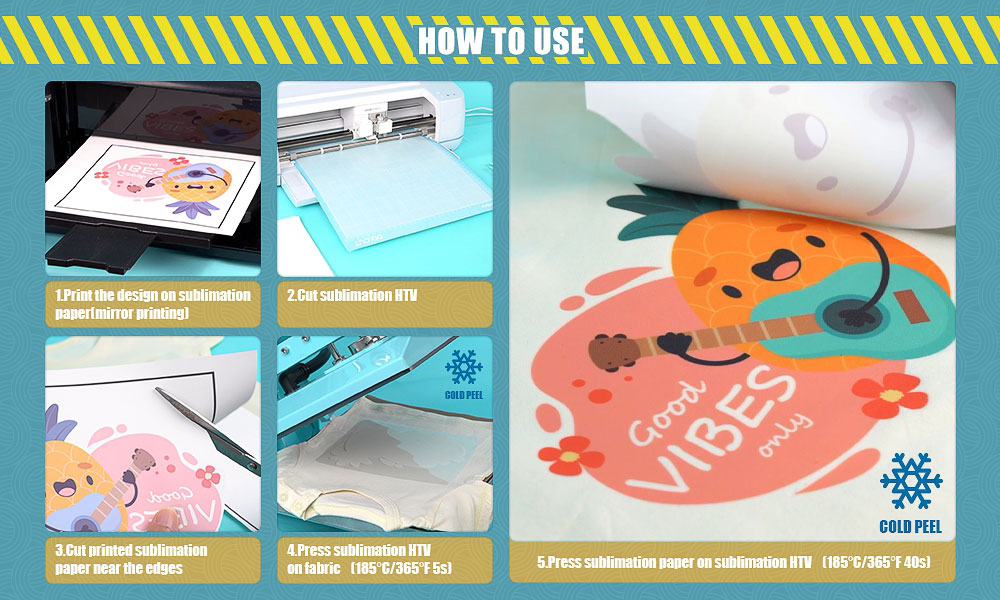 * If the pattern is not easy to align during transfer, you can also put a positioning film on the back of the sublimation paper, and then use a cutting plotter to cut the pattern on the sublimation paper and then weed the extra parts,in order to align the pattern during transfer.
More operation details about sublimation Vinyl,please view the following VIDEO.
Application
Sublimation heat transfer vinyl is widely used on most material: 100% Cotton, 100% Polyester, Poly / Cotton Blends,such as Light colored clothes, Canvas bags, Hats, Socks, Pillows, Baby clothing and more.
The application of sublimation HTV Sheets