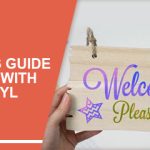 A Beginner's Guide to Crafting with Adhesive Vinyl
2023-07-28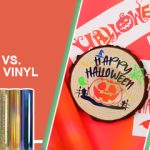 Adhesive Vinyl vs. Heat Transfer Vinyl: Which One to Choose?
2023-08-04
Adhesive vinyl are valuable assets for crafters, DIY enthusiasts, and businesses that engage in personalized projects. To get the most out of your adhesive vinyl and ensure its longevity, proper storage is key. Whether you have an extensive collection of vinyl rolls or a few specialty ones, following the right storage practices will prevent issues like wrinkling, curling, or adhesive degradation. In this article, Yesion factory will provide you with essential tips to keep your adhesive vinyl rolls in pristine condition, ensuring they are ready for your next creative venture.
1. Keep Vinyl Rolls in a Vertical Position
Storing your adhesive vinyl rolls vertically is one of the most effective ways to prevent curling or warping. When stored horizontally, vinyl rolls can develop a natural curve due to the weight of the roll. In a vertical position, the weight is distributed evenly, helping to maintain the integrity of the vinyl.
2. Use a Sturdy Vinyl Roll Organizer
Invest in a sturdy vinyl roll organizer or storage rack designed to hold and support multiple rolls. This will not only keep your vinyl organized and accessible but also prevent rolls from getting crushed or damaged.
3. Protect from Sunlight and Heat
Store your adhesive vinyl rolls away from direct sunlight and heat sources. Prolonged exposure to sunlight and high temperatures can cause the vinyl to fade and the adhesive to weaken. A cool, dry, and dark storage area is ideal for preserving the quality of your vinyl.
4. Avoid Humid Environments
Humidity can negatively affect adhesive vinyl rolls by causing them to absorb moisture. This can lead to issues like wrinkling, bubbling, and difficulty in weeding. Keep your storage area dry and consider using dehumidifiers if necessary.
5. Use Protective Sleeves or Tubes
To provide an extra layer of protection, consider using plastic sleeves or tubes to encase your adhesive vinyl rolls. These sleeves will shield the vinyl from dust, debris, and accidental damage.
6. Label and Organize
Maintain a well-organized storage system by labeling your adhesive vinyl rolls. Use tags or stickers to identify the type, color, and specifications of each roll. This will save time when searching for specific vinyl and prevent unnecessary handling of the rolls.
7. Avoid Extreme Temperatures
Extreme temperatures, both hot and cold, can adversely affect adhesive vinyl. Avoid storing vinyl rolls in areas susceptible to temperature fluctuations, such as attics, garages, or near heaters.
8. Limit Handling
Excessive handling of adhesive vinyl rolls can lead to unintentional creasing or damage to the vinyl. Only handle the rolls when necessary and with clean, dry hands to prevent the transfer of oils or dirt.
9. Store Flat Materials Separately
If you have adhesive vinyl rolls and flat materials like sheets or mats, store them separately. The weight of flat materials on top of rolls can cause flattening and affect the quality of the vinyl.
10. Inspect Regularly
Perform regular inspections of your adhesive vinyl rolls to ensure they remain in good condition. Check for any signs of damage, discoloration, or adhesive issues. Early detection of problems allows you to take preventive measures and salvage the rest of the roll if needed.
FAQs
Q: Can I store adhesive vinyl rolls in the refrigerator or freezer to extend their shelf life?
Storing adhesive vinyl rolls in the refrigerator or freezer is not recommended. The humidity levels and extreme temperatures in these environments can negatively impact the vinyl and its adhesive.
Q: Can I stack vinyl rolls on top of each other?
It is best to avoid stacking vinyl rolls directly on top of each other, as this can lead to pressure-related issues like creasing or flattening. Use a sturdy vinyl roll organizer to store them vertically instead.
Q: How long can I store adhesive vinyl rolls without compromising their quality?
The shelf life of adhesive vinyl rolls can vary depending on the brand and environmental conditions. In general, properly stored vinyl can last for several years without significant degradation.
Q: Should I store vinyl rolls in their original packaging?
If the original packaging provides adequate protection, you can keep the vinyl rolls in their packaging. However, consider using additional protective measures like plastic sleeves for added security.
Q: Can I store partially used vinyl rolls?
Yes, you can store partially used vinyl rolls. Trim the vinyl neatly and then roll it tightly, securing it with a rubber band or tape. Place the roll back into storage following the same guidelines.
Q: Can I store adhesive vinyl rolls vertically without a storage organizer?
While a storage organizer is recommended for optimal support, you can store vinyl rolls vertically without one if they are positioned securely against a wall or in a stable position.
Properly storing adhesive vinyl rolls is essential to ensure their quality and usability over time. By following these tips and best practices, you can preserve the integrity of your vinyl and avoid common issues like curling or adhesive degradation. A little care in storage goes a long way in keeping your adhesive vinyl rolls ready and waiting for your next crafting project. So, organize your vinyl collection, protect it from external elements, and get ready to embark on endless creative possibilities!