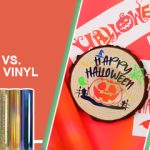 Adhesive Vinyl vs. Heat Transfer Vinyl: Which One to Choose?
2023-08-04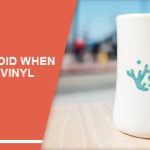 19 Mistakes to Avoid When Using Adhesive Vinyl
2023-08-11
Adhesive vinyl is a popular material for creating custom decals, stickers, and decorations for various surfaces. The versatility and ease of use of adhesive vinyl make it a preferred choice for many projects. While it offers a versatile and easy-to-use solution, there are some common issues that can arise during the application process. Understanding these challenges can help you achieve smooth and successful adhesive vinyl applications. Here are some of the most common issues:
1. Bubbles and Wrinkles
One of the most frequent problems when applying adhesive vinyl is the formation of bubbles or wrinkles under the vinyl. This issue usually occurs when the vinyl is not carefully smoothed out during application.
Tips to Avoid Bubbles and Wrinkles
Apply the adhesive vinyl slowly and evenly, smoothing it out as you go.
Use a heat gun or hairdryer to gently warm the vinyl, which makes it more pliable and easier to work with.
Apply pressure to the vinyl's surface after installation to ensure proper adhesion.
2. Uneven Application
Uneven application can result in parts of the vinyl adhering well while other areas may not stick properly. This issue is often caused by insufficient pressure or uneven pressure during the application process.
Tips for Achieving Even Application
Measure and mark the surface before application to ensure precise alignment.
Divide the vinyl into smaller sections and apply them individually for better control.
Use a heat gun to help mold the vinyl around curved surfaces.
3. Premature Adhesive Failure
Premature adhesive failure occurs when the vinyl starts peeling or falling off shortly after application. This issue can be caused by environmental factors, low-quality vinyl, or inadequate surface preparation.
Tips to Prevent Premature Adhesive Failure
Choose vinyl appropriate for the intended environment (indoor, outdoor, etc.).
Clean and dry the application surface thoroughly before installing the vinyl.
Ensure that the surface temperature is suitable for the adhesive to bond correctly.
4. Poor Adhesion on Textured Surfaces
Adhesive vinyl may struggle to adhere to textured or porous surfaces, such as unfinished wood or rough walls. The uneven surface prevents the vinyl from making full contact, leading to peeling or lifting. In such cases, consider using a primer or sealant on the surface before applying the vinyl to improve adhesion.
5. Vinyl Lifting or Peeling
Vinyl lifting or peeling can occur over time, especially in high-traffic or outdoor environments. Exposure to heat, moisture, or repeated rubbing can weaken the adhesive, causing the vinyl to lift at the edges. To prevent this, choose high-quality, outdoor-rated vinyl and ensure proper surface preparation before application.
Tips to Avoid Peeling and Lifting
Thoroughly clean and dry the application surface before installing the vinyl.
Use a squeegee or application tool to ensure proper adhesion, pushing out air bubbles as you go.
Invest in high-quality adhesive vinyl from reputable adhesive vinyl manufacturers.
6. Residue and Difficult Removal
Sometimes, adhesive residue may remain on the surface after removing the vinyl. This issue can be a challenge, particularly on delicate surfaces or painted walls. To facilitate easier removal, use a heat gun or hairdryer to warm the vinyl slightly, making it easier to peel off without leaving residue.
Tips to Remove Residue
Use a mild adhesive remover or rubbing alcohol to dissolve the residue gently.
Be cautious not to damage the underlying surface while removing the residue.
Test the cleaning solution on a small, inconspicuous area before applying it widely.
7. Inconsistent Vinyl Cut
If the vinyl is not cut correctly, it may lead to difficulty during application. The edges might not align properly or result in a messy appearance. Ensure that your cutting machine is properly calibrated and use high-quality vinyl to achieve precise and clean cuts.
8. Fading or Discoloration
Exposure to UV rays and harsh weather conditions can cause adhesive vinyl to fade or discolor over time. To maintain the vibrancy of the colors, use UV-resistant or outdoor-rated vinyl for projects intended for prolonged outdoor use.
By understanding these common issues and following best practices for adhesive vinyl application, you can create professional-looking and long-lasting custom decals and decorations for a variety of surfaces. Proper preparation, the use of quality materials, and attention to detail are key to achieving successful and visually appealing adhesive vinyl applications. If you want to buy super quality and cheap adhesive vinyl, YESION is your most suitable choice, a factory with more than ten years of production experience in craft vinyl industry.
Related: