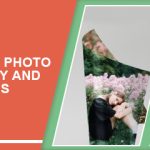 Magic of Double-Sided Photo Paper: Glossy and Matte Finishes
2023-08-15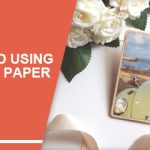 The Ultimate Guide to Choosing and Using Inkjet Photo Paper
2023-08-22
Sticker paper and decal paper are two popular craft paper choices when it comes to adding personalized designs to various surfaces. While they may seem similar at first glance. They both serve the purpose of allowing us to create and transfer images onto various surfaces, but are they truly the same? In this blog post, we will delve into the nuances of sticker paper and decal paper, uncovering their unique characteristics, applications, and benefits.
What are sticker paper and decal paper?
Understanding Sticker Paper
Sticker paper is typically made from a variety of materials, including vinyl (including PP and PET), paper, or polyester. Sticker paper is a versatile medium that has gained popularity for its convenience and simplicity. It is typically adhesive-backed paper that can be printed on using a standard inkjet or laser printer. Sticker paper is commonly utilized to create labels, stickers, and even custom designs for scrapbooking or personal use. One of its distinguishing features is the glossy finish that it often boasts, giving the printed design a vibrant and polished appearance. The adhesive on sticker paper is designed to provide a strong grip, ensuring that the sticker stays firmly attached to the chosen surface.
Related:
The Best sticker papers for Labels & Decals
What is Decal Paper?
Decal paper is specially formulated for intricate designs and applications, while sharing some similarities with sticker paper, serves a distinct purpose within the realm of creative expression. Decals are intricate designs or images printed on a specialized type of paper that can be transferred onto a surface. Unlike sticker paper, decal paper often features a clear background, allowing the design to seamlessly integrate with the chosen surface. This unique characteristic makes decals particularly well-suited for applications such as models, crafts, ceramics, glassware, and other objects. Decals can have a clear background, allowing the design to blend seamlessly with the surface.
Usage Methods of sticker paper and decal paper
How to use sticker paper?
Using sticker paper is relatively straightforward. After printing your desired design onto the sticker paper using an inkjet or laser printer, you can simply peel off the backing and stick the sticker onto your chosen surface. Sticker paper is suitable for quick and hassle-free applications.
How to use decal paper?
Applying decals involves a slightly more intricate process. First, you print your design onto the decal paper. Once printed, you cut out the design, soak it in water, and then carefully slide the design onto the target surface. Once in place, you gently remove the top layer to reveal the transferred design. The process may take a bit more time and attention to detail but results in a seamless, professional appearance.
For Yesion factory,we provide decal paper for inkjet printers and decal paper for laser printers.
This video is about how to use laser white water decal slide transfer paper on ceramic tiles?
If you would like to learn more,please follow up YESION youtube channel,we regularly update more surprising product content.
Related:
How to Print Decals on Waterslide Decal Paper
Application of self-adhesive paper and decal paper
Sticker Paper Applications
Sticker paper finds its utility in a wide array of applications. It is commonly used for creating labels, product packaging, custom stickers, and even temporary decorations. Sticker paper works well on smooth surfaces such as paper, glass, plastic, and metal. Whether you're labeling storage containers, designing personalized stickers for a special event, or crafting unique visuals for your journal, sticker paper offers a quick and user-friendly solution. Its ease of use and accessibility make it a favorite among hobbyists and professionals alike. Furthermore, sticker paper is an excellent choice for projects that require a durable and long-lasting adhesive.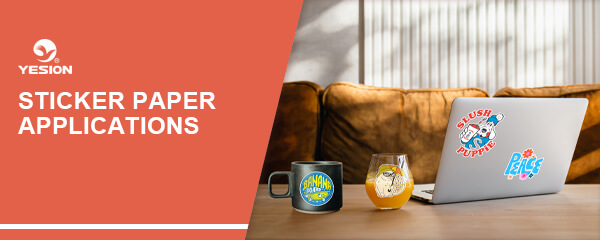 Decal Paper Applications
Decal paper unlocks a realm of artistic possibilities that go beyond the scope of sticker paper. It is often used for model making, ceramics, glassware, pottery, and crafts where a detailed and seamless design is essential.  Its ability to seamlessly blend with the surface it's applied to makes it an ideal choice for projects that demand intricate details and a high level of customization. Model enthusiasts, for instance, can use decal paper to create realistic and finely-detailed designs on miniature cars, airplanes, and other models. The clear or white background of decal paper allows the design to blend seamlessly with the surface, giving a hand-painted or professionally printed appearance.
Choosing the Right Medium for Your Project
While the two terms are sometimes used interchangeably, sticker paper and decal paper are distinct products tailored to different applications. Selecting between sticker paper and decal paper depends largely on the nature of your project and the desired outcome. If you're aiming for a straightforward, easily applicable design that sticks securely to surfaces, sticker paper is the way to go. On the other hand, if your project demands intricate detailing and a professional, seamless appearance, decal paper is the more suitable choice.
Conclusion
In the grand tapestry of creative possibilities, sticker paper and decal paper each weave their unique threads. Sticker paper's user-friendly nature and strong adhesive cater to those seeking quick and practical solutions for labeling and personalization. Decal paper, with its transparent background and ability to create intricate designs, finds favor among artists and crafters striving for a polished and professional finish. So, while sticker paper and decal paper might share a common goal of embellishing surfaces with printed designs, they are indeed distinct tools, each with its own place in the world of creativity.