Glow in the dark tattoo paper for inkjet printers is a special type of paper that allows you to print designs that will glow in the dark after being charged with light. It is a fun and unique way to create personalized temporary tattoos that can be applied to your skin for a special event or just for fun. This tattoo transfer paper is ideal for creating temporary tattoos, stickers, or decals that can be used for parties, festivals, or other special events.
The tattoo paper works by using a special phosphorescent material that absorbs light during the day and then emits it in the form of a glowing light at night. When you print your design onto the paper using an inkjet printer, the ink adheres to the surface of the paper and is absorbed by the phosphorescent material.
To activate the glow effect, you simply need to expose the printed design to a light source for a few minutes, either by placing it under a light bulb or in direct sunlight. Once charged, the design will emit a bright, glowing light in the dark for several hours.
Glow in the dark tattoo paper is available in various sizes and shapes, making it easy to create custom designs that can be cut to fit any surface. It is also waterproof, making it perfect for use on skin or other surfaces that may come into contact with water.
Glow in the dark tattoo paper is a fun and unique way to add some extra excitement to your next event or project.
Specificaltions
| | |
| --- | --- |
| Size | A4 / A3 |
| Transfer type | water transfer |
| Suitable printer | inkjet printer |
| Suitable ink | pigment ink/dye ink (pigment ink is more recommended) |
| A printable paper thickness | 0.23 mm |
| B film thickness | 0.2 mm (clear film 0.08 mm+glow in the dark glue 0.06 mm+back film 0.06 mm) |
Opertation and Video
Easy to use
1. Print the image with inkjet printer in mirror mode.
2.Blow the printed A paper with a hair dryer for 3-5 minutes until the ink is dry.
3. Attach B film to A paper.
4. Use a scraper to scrape out the air bubbles.
5. Remove the clear film.
6. Attach the image on the skin, wet and press.
7. Slide out the back film.
8. The tattoo will glow in the dark after absorbing light 5-10 minutes.
Note:
1. Mirror Printing.
2. The image is recommended to use hollow designs for better effect.
3. Ink selection: It is recommended to choose waterproof ink for printing.
4. It takes about 2~3 hours to dry naturally after printing, which is rather long. Drying with a hairdryer is recommended.
5. Make sure the skin is dry and clean before transferring .
6. Press and wet 30~40 seconds when transferring large-format patterns, and then remove the backing film.
7. Avoid friction with clothing or accessories for 30 minutes after transferring.
8. The glue feeling will get weaker and weaker after a few hours.
How to use Glow In The Dark Temporary Tattoo Paper For Inkjet Printer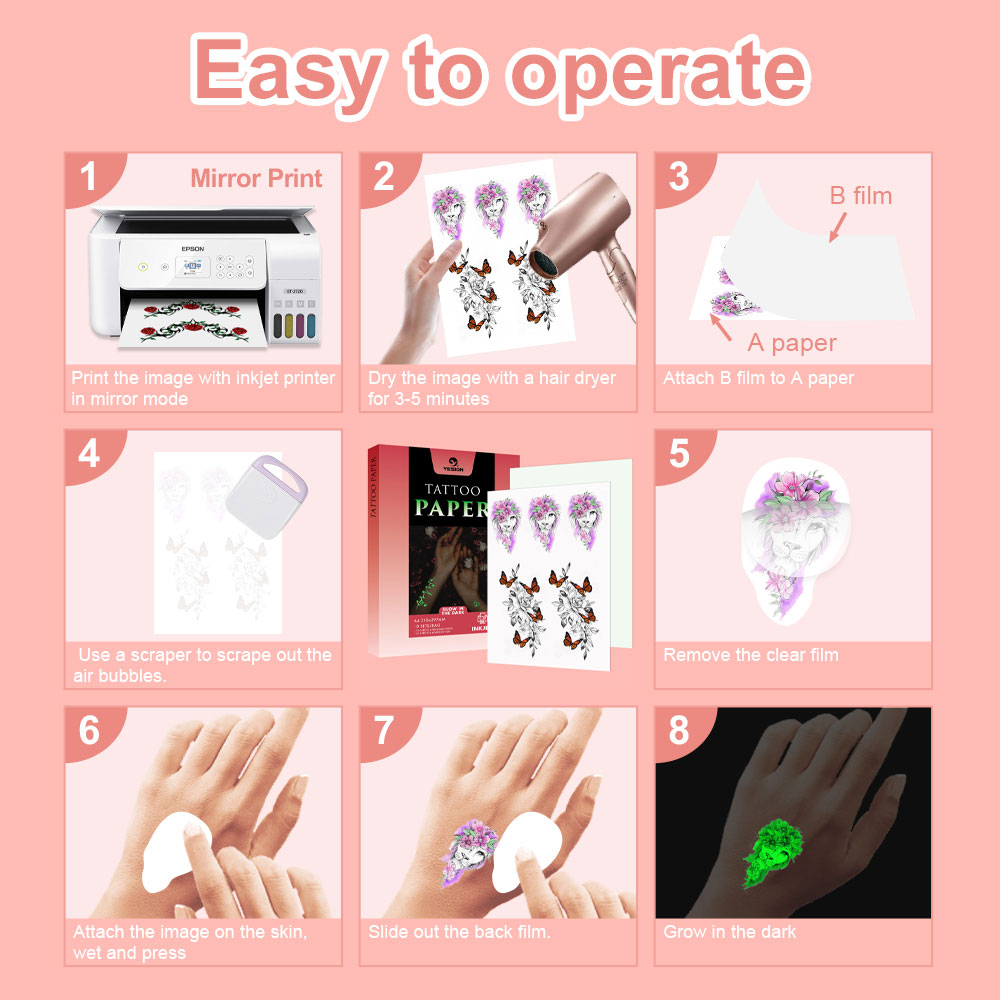 Application
The Glow In The Dark Temporary Tattoo Paper For Inkjet Printer is suitable for DIY tattoos on skin.
The application of Glow In The Dark Temporary Tattoo Paper For Inkjet Printer