Tattoo paper is a special type of paper that allows you to create temporary tattoos at home using an inkjet printer. Gold tattoo paper is a popular choice for those who want to create metallic-looking temporary tattoos with a touch of luxury.
Gold tattoo paper is specifically designed to work with inkjet printers and comes in a variety of shades of gold, from light gold to deep, rich gold tones. This type of paper is perfect for creating unique designs for parties, events, or just for fun.
Using gold tattoo paper is easy. You can create your design on your computer, print it out onto the gold tattoo paper using an inkjet printer, and then apply it to your skin using water. The metallic finish of the paper creates a bold and eye-catching effect, making your tattoos stand out even more.
When choosing gold tattoo paper for your inkjet printer, it is important to make sure that the paper is compatible with your printer. Look for papers that are specifically designed for inkjet printers and that have a good reputation for producing high-quality temporary tattoos.
In summary, gold tattoo paper for inkjet printers is a fun and creative way to create metallic-looking temporary tattoos at home. With a little creativity and the right materials, you can create unique and luxurious designs that are sure to impress.
Specificaltions
| | |
| --- | --- |
| Size | A4 / A3 |
| Transfer type | water transfer |
| Suitable printer | inkjet printer |
| Suitable ink | pigment ink/dye ink (pigment ink is more recommended) |
| A printable paper thickness | 0.23 mm |
| B film thickness | 0.17 mm (clear film 0.08 mm+gold glue 0.02 mm+back film 0.07 mm) |
Opertation and Video
Easy to use
1. Print the image with inkjet printer in mirror mode.
2.Blow the printed A paper with a hair dryer for 3-5 minutes until the ink is dry.
3. Attach B film to A paper.
4. Use a scraper to scrape out the air bubbles.
5. Remove the clear film.
6. Attach the image on the skin, wet and press.
7. Slide out the back film.
Note:
1. Mirror Printing
2. The image is recommended to use hollow designs for better effect.
3. Ink selection: It is recommended to choose waterproof ink for printing.
4. It takes about 2~3 hours to dry naturally after printing, which is rather long. Drying with a hairdryer is recommended.
5. Make sure the skin is dry and clean before transferring .
6. Press and wet 30~40 seconds when transferring large-format patterns, and then remove the backing film.
7. Avoid friction with clothing or accessories for 30 minutes after transferring.
8. The glue feeling will get weaker and weaker after a few hours.
How to use Printable Temporary Tattoo Paper Gold Color For Inkjet Printer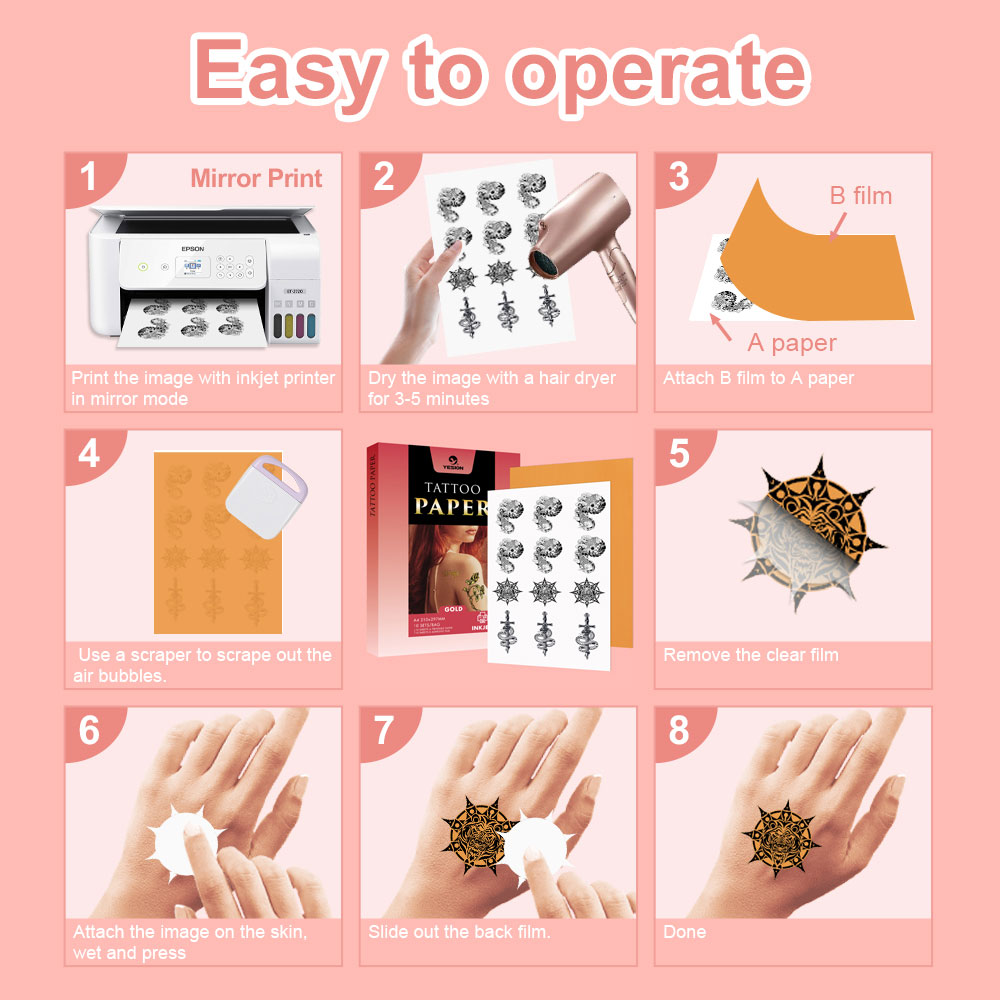 Application
The Printable Temporary Tattoo Paper Gold Color For Inkjet Printer is suitable for DIY tattoos on skin.