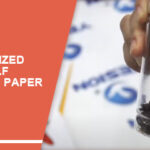 How to use self adhesive photo paper to make personalized labels?
2023-10-17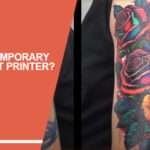 Can you make a temporary tattoo with inkjet printer?
2023-10-24
Handling and storing photo paper properly is essential to maintain its quality and ensure optimal printing results. Whether you're a professional photographer or an enthusiast or engaged in photo paper distribution business, following these guidelines will help you preserve the integrity of your photo paper and protect your valuable prints.
Handling Photo Paper
Clean Hands: Before handling photographic paper, make sure your hands are clean and dry to avoid transferring dirt, oils, or moisture onto the paper's surface. Consider wearing lint-free gloves to prevent fingerprints.
Avoid Bending or Folding: Handle photo paper with care and avoid bending, folding, or creasing it, as this can damage the surface and affect print quality.
Use Protective Sleeves or Sheets: To prevent scratches or smudges, consider using protective sleeves or sheets when handling photo paper. These can provide an additional layer of protection during storage and transportation.
Minimize Exposure to Air: Excessive exposure to air can lead to moisture absorption, which can affect the print quality. When not in use, keep photo paper in its original packaging or store it in a sealed container to minimize air exposure.
Handle with Borders: If your photo paper has borders, hold it by the edges or borders to avoid touching the printable surface directly.
Avoid Contact with Liquids: Keep photo paper away from liquids, including water, beverages, and chemicals. Even small amounts of liquid can damage the paper's surface and affect print quality.
Handle in Controlled Environment: It's best to handle photo paper in a controlled environment with stable temperature and humidity levels. Extreme temperature and humidity fluctuations can impact the paper's performance and longevity.
Use a Clean Work Surface: When working with photo paper, ensure that your work surface is clean and free from debris that could transfer onto the paper.
Avoid Excessive Touching: Minimize unnecessary handling of the printable surface to avoid fingerprints or smudges. Hold the paper by the edges or use gloves if necessary.
Allow for Drying Time: If you're printing photos and need to handle them immediately after printing, allow them to dry completely first. Wet ink can easily smudge, so it's best to give it ample time to dry before handling.
Use a Soft Brush or Blower: If you need to remove any dust or debris from the surface of the photo paper, use a soft brush or a blower specifically designed for cleaning delicate surfaces. Avoid using tissues or rough cloths that could scratch the paper.
Yesion photo paper
Storing Photo Paper
Original Packaging: Store photo paper in its original packaging to protect it from dust, moisture, and light. The packaging is specifically designed to provide adequate protection during storage.
Sealed Containers: If the original packaging is damaged or not available, consider storing the photo paper in a sealed container or a resealable plastic bag to prevent exposure to air, dust, and moisture.
Cool, Dry, and Dark Location: Choose a storage location that is cool, dry, and away from direct sunlight. High temperatures and humidity can degrade the paper's quality over time, while exposure to sunlight can cause fading and discoloration.
Avoid Extreme Conditions: Avoid storing photo paper in areas prone to extreme temperature fluctuations, such as attics, basements, or near heating vents. Extreme temperatures can cause the paper to warp or deteriorate.
Flat Storage: Store photo paper in a flat position to minimize the risk of curling or warping. If storing multiple sheets, place a stiff backing material, such as cardboard, between each sheet to maintain flatness.
Avoid Weight Pressure: Avoid placing heavy objects on top of photo paper, as this can lead to creasing or damage.
Rotate Stock: If you have a large quantity of photo paper, consider rotating your stock. Use the oldest batches first to ensure that the paper is used before it reaches its expiration date.
Avoid High Humidity Areas: High humidity can cause photo paper to absorb moisture, leading to issues such as curling or ink bleeding. Avoid storing photo paper in areas like bathrooms or basements where humidity levels are high.
Temperature Control: Aim to store photo paper in a location with a consistent temperature. Extreme temperature fluctuations can adversely affect the paper's quality. Ideally, the temperature should be around 68-72°F (20-22°C).
Keep Away from Direct Sunlight: Exposure to direct sunlight can cause the colors on the photo paper to fade over time. Choose a storage location that is away from windows or any other sources of direct sunlight.
Avoid Acidic Environments: Acidic materials, such as certain types of cardboard or papers, can potentially damage photo paper over time. Store photo paper away from any materials that may have acidic properties.
Use Desiccants: To further protect photo paper from moisture, consider adding desiccant packets or silica gel sachets to the storage container. These help absorb any excess moisture and maintain a dry environment.
Regularly Check for Damage: Periodically inspect your stored photo paper for any signs of damage, such as mold or discoloration. If you notice any issues, it's best to discard the affected paper to prevent it from impacting the quality of your prints.
Remember, proper handling and storage of photo paper are crucial for maintaining its quality and ensuring optimal printing results. By following these guidelines for handling and storing photo paper, you can prolong its lifespan, maintain optimal print quality, and protect your valuable prints. Remember to always refer to the photo paper manufacturer's recommendations for specific instructions on handling and storing their particular photo paper product.